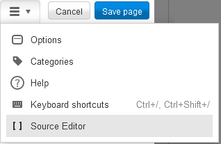 Template for Realm Grinder wikia's
Mercenary Builds
pages.
Click the "Edit" button and type your build in the table below.
Optionally 'Save page' to check if everything gets displayed as you wish. (Click here to undo your edit)
Once your build looks as you wish, you can either:

Copy from preview: Select all the text from above to below the table including the two ==== dotted lines.
Copy from source code (safer method): Open the 'Source Editor' (see above image) and copy [Ctrl+C] everything between the two ==== dotted lines.

Now paste [Ctrl+V] your copy where you want it. (Note: You must paste in the same mode as you copied: If your copied from the source code, paste in to a source code.)
Return this page to its initial state: If you had saved your edit, you can easily undo your edits by going here: page history.
PS: The table does not seem to get copied correctly if the copy is done while in 'reading mode', without clicking 'Edit' button. Tested with a Firefox browser, other browsers may give different results.
Build Table Template
Edit
================================================================================
BUILD NAME Edit
Description:___________ - Date: _/_/2016 by:______ (Source link)
Range:________
Requirements:_________
BUILD NAME Upgrades
Bloodline: ______
Spells: ______, ______
Tier 1 Upgrades
upgrade
upgrade
upgrade
upgrade
Tier 2 Upgrades
upgrade
upgrade
upgrade
upgrade
Tier 1 Upgrades
upgrade
upgrade
upgrade
upgrade
Instructions:__________
Notes:
================================================================================
Make you own Sandbox page. - Wikia Help - Back to Ream Grinder Wikia
Ad blocker interference detected!
Wikia is a free-to-use site that makes money from advertising. We have a modified experience for viewers using ad blockers

Wikia is not accessible if you've made further modifications. Remove the custom ad blocker rule(s) and the page will load as expected.